Quick Links - Join Savon Now - Most Popular Plans - Download & Mail Application - Dental Plan Policy
Helping You Save On More Than Just Dentistry
Do you pay cash for your prescription medicines Now? If so, you can stop paying full price for prescription today!
Our Prescription Discount Card offers discounts on prescriptions for people who don't have prescription drug insurance, for people that have yearly limits on prescription benefits and any prescription that your insurance doesn't cover.
Get your FREE InCareRX Prescription Discount Card RIGHT NOW!!
SAVE MONEY…
Use your Prescription Discount Card today. Simply
Click-N-Print NOW!
IT'S EASY: Show your membership card at the pharmacy and save money immediately!



NO RESTRICTIONS: Use your card frequently, for any prescription, for everyone in your family.



IT'S CONVENIENT: You can use your card at 60,000 pharmacies in the U.S.
Save 14% to 21% on Brand, and sometimes over 90% on generics, depending on what medication you are prescribed! Participating pharmacies include:
Albertsons
CVS Pharmacy
Costco
Eckerd Drug
Fry's Drug
H-E-B

K-Mart Pharmacy
Kroger Pharmacies
Meijer Pharmacies Inc.
Publix Drug Stores
Randalls
Rite-Aid Pharmacy

Safeway Supermarkets
Target Pharmacies
Walgreens Drug Stores
Wal-Mart Pharmacies
Winn Dixie Pharmacies
If you still have questions please go to our
FAQ page
or call 800-286-9589 for live help.
Get prices of drugs or find a pharmacy in your area now by visiting the Pharmacy Finder / Drug Prices page.
Click on the picture below to get your free card now!!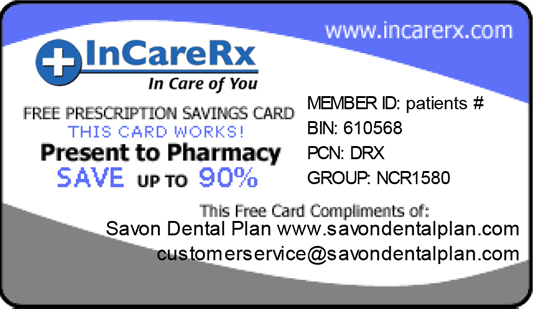 This is not insurance and is not intended to replace insurance.
The discount is only available at participating pharmacies.
Pharmacies are required to pay a processing fee. Drug price fluctuations occur without notice and vary and are not instantly incorporated into the pricing tool. The final accurate price will be the amount charge by your local Pharmacy. Since we have no control over any price change and we update the pricing tool as soon as it is possible or practical and we update often, however we cannot guarantee the pricing information that is displayed or its accuracy as the price could change at any time and the pricing tool should not be relied upon as such as drug prices provided are for information purposes only.